Ways of Sewing the Elastic Band to Secure Your Wig and Lay the Hairline Flat
For better secure your wig, and make your wig stay in place, we include an elastic band in the package box for you to optionally sew inside your cap by yourself, to make your hairline flat and make your wig more secure.
Today we will share 4 different ways of how to sew the elastic band, you can choose the most convenient way to do it yourself if necessary.
1 - Sew in with Fold Up Method
The first way is shared by talented @MsPreciousMarie.
First, we need a needle, some thread, and a pair of scissors, the elastic band 
Flip over your wig and put it on a head model, measure the band out from ear to ear, cut it to the length you measured without stretching it, sew the band onto the cap exactly where the ear tabs are. 
Make sure you didn't sew it too tightly because it will be uncomfortable when you wear your wig. The great idea is to fold the band up to make it a bit tight and fit your head perfectly. The inches you fold up is according to the tightness you feel comfortable. And this way allows you to adjust later if you feel too tight or too loose.
Here's the finished look with no glue:
Wig Specs:
Color: Natural Color
Hair Length: 22 inch
Cap: Cap-1A. Full Lace Cap with Stretch in Crown
2 - Use Tape Measure to Get the Length of the Elastic Band
For properly sewing the elastic band to your wig cap, you need a tape measure. Measure the length from your ear to ear in straight. And we recommend you to cut off with 2-4 inches more of the length you measured, to ensure that it sits very flat and tight on your head. 
The extra length you cut off is also according to the tightness you feel comfortable when wearing.
Then sew the band from ear to ear inside your wig cap.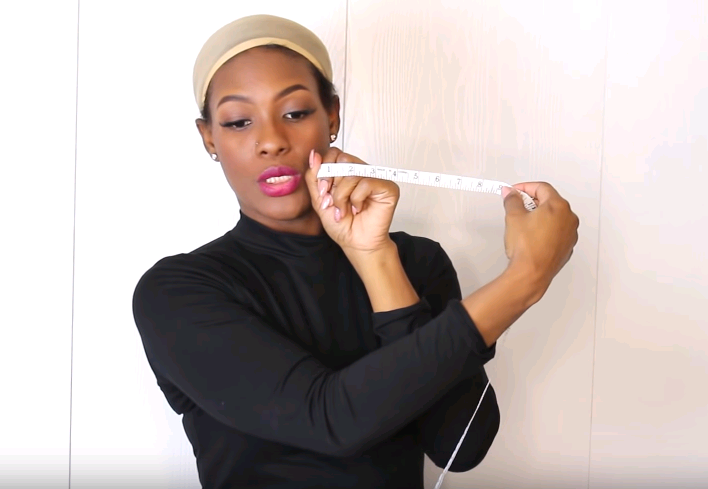 3 - Measuring the Tightened Length of the Elastic Band
This way doesn't need a tape measure, all you need to do is measuring from ear to ear right across the nape area, please make sure you hold your elastic band very tight because you will get a lot of tension when you pull this elastic band to get a tightened length, then you will get the length which you should be cutting up.
It will be very short since you can pull it when you wear your wig.
Sew the band to your wig cap.
4 - Choose the Wig with a Sewin Removable Elastic Band
The most convenient way is to buy a wig with an elastic band already sewed inside.
Now we recently released the new fake scalp cap human hair wigs, which have an adjustable and removable elastic band sewed inside.
If you choose another cap construction and still want a sewed elastic band, please leave us a message and an extra $10 will be charged for the band.